You need to have a WebChaver username to install the software. Sign up today!
Tip: Turning off the computer's antivirus/security program before you install Covenant Eyes is necessary.
To begin, please download the software to your computer, then follow the instructions below.
Screen Accountability is incompatible with XP and Vista.
Click the "Download" button to download the software and start the installation process.
You will be given the choice to run the install file, save it, or cancel the download. Choose "Run." Your download will then start automatically. (Note: Depending on your choice of web browser, you may only be given the option to save the file or cancel the download. Choose "Save," then open the downloaded file.)
Windows may ask if you want to allow the program to make changes to your computer. Select "Yes."
The Install Wizard will start automatically. Close down any extra programs you have running and click the "Next" button as it appears on the next few screens.
At the end, click "Finish." If you are prompted to restart, please do so to complete the installation process.
Updating Covenant Eyes
If you need to update your Covenant Eyes software, simply follow the process outlined above. In most cases, you will not need to uninstall your current version of the software. However, if you prefer to do that, or have been advised to do so by a member of our Customer Support team, be sure to consult our directions for uninstalling Covenant Eyes.
Checking Your Version Number
Combined with your knowledge of installing Covenant Eyes for Windows, using the information below is an easy way to verify the installation/upgrade.
Click the Hidden Icons arrow, which is near the clock on your computer.
Click the eye icon (our logo) and a pop-up menu will appear.
Select "About Covenant Eyes" and a small window will display the version number.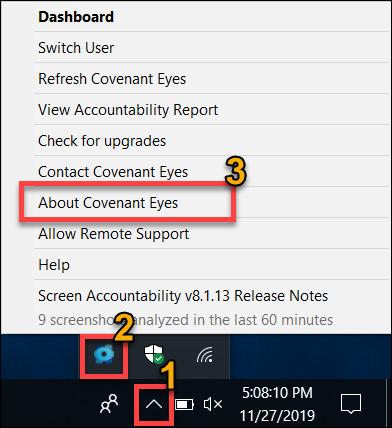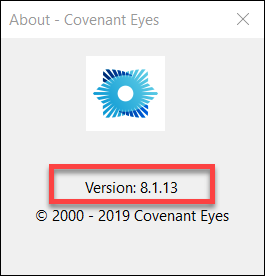 If you need to uninstall the software, please see the uninstall instructions.